Thousands of employees drive vehicles provided to them by their employers, using them for everything from hauling goods to transporting people to general work-related errands. Unfortunately, company cars, trucks, vans, SUVs and fleet vehicles are involved in numerous serious accidents in Texas every year.
If you were injured in a wreck where the other driver was using a company vehicle, you may be entitled to compensation. To obtain it, however, you'll need to find an attorney who understands how personal injury cases involving company vehicles differ from the "ordinary" car accident case.
What Is a "Company Vehicle"?
We all recognize some company vehicles right away: an 18-wheeler, a UPS or FedEx truck, a service van with a plumber's advertising all over it. But the definition of a company vehicle is much broader than that.
A company vehicle can be any motor vehicle, no matter its size, that is used by an employee or agent to complete work-related tasks. The vehicle may be owned or leased by the company and then provided to the employee. A short list of company vehicles may include:
Box trucks
Catering trucks/cargo vans
Corporate cars
Fleet vehicles
School buses
Ridesharing service vehicles (Uber, Lyft)
Food delivery service vehicles (DoorDash, Grubhub)
Taxis and shuttles
Limousines
What happens if you are injured by someone who is driving their own car but, at the time of the crash, they were using their personal car for business reasons? That's an important question and it comes down to the specific facts about the crash. It may, in some cases, be possible to argue that the vehicle was being used like a company vehicle, which could allow you to hold the employee's company liable for damages. Be sure to ask your lawyer this question and explain everything in detail so he/she can take appropriate action.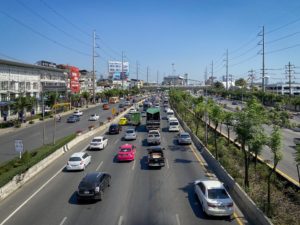 Who Can Be Held Liable for Company Vehicle Accidents?
The general rule is that employers are liable for the actions of their employees, so long as 1) the actions were within the scope of employment and 2) the employee was acting as an "agent" for the company at the time. This is known as respondeat superior, a legal term roughly meaning "let the master answer" for the conduct of his subordinates.
When it comes to company vehicle accidents, a company could be held liable for:
Negligent supervision
Negligent hiring practices
Failure to verify proper licensing/certification
Failure to properly train drivers
Failure to maintain vehicle
Additionally, the employee/driver could be held personally liable in certain situations, such as if the driver was intoxicated behind the wheel, texting while driving or otherwise negligent.
Our Texas Personal Injury Lawyers Are Here to Help
If you were hurt in a wreck with a fleet vehicle, delivery truck, city bus, garbage truck, box truck or any other kind of company vehicle, reach out to The Fell Law Firm in Dallas. Our accident attorneys provide a free initial consultation where you can explain what happened and we can explain how we can help. Contact us today to arrange your meeting.